Receiving sacraments through the Catholic Church in Brisbane
Welcome to the Flame of Faith website. Although this website focuses on the way children are welcomed into the Church, it can speak to all people searching for a deeper meaning to life.
Perhaps you have just stumbled across this page and thought you'd take a look. Maybe you are looking for information about having your child baptised or you may be preparing with your child for Confirmation or Eucharist. It could be a long time since you've thought about the sacraments and connected with the Church. Or maybe you have never connected. You could be seeking a deeper understanding of the Church's rituals. Whoever you are and whatever your reason I invite you to take a good look around and to be drawn into the mystery of the sacraments.
"Christian Initiation incorporates us into Christ and forms us into God's people. In Baptism, God adopts us as children and makes us a new creation through water and the Holy Spirit. As we are signed with the gift of the Spirit in Confirmation, God brings us to the full stature of the Lord Jesus to continue his mission in the world. At the table of the Eucharist, we are fed on the sacrament of Christ's body and blood, and, with the whole Church, take part in the saving offering of Christ on the cross. In Sunday Mass, those who have been initiated are continually formed by the word of God and affirmed in their belonging to the Church, the Body of Christ."
Christian Initiation for Children, Sacramental Policy of the Archdiocese of Brisbane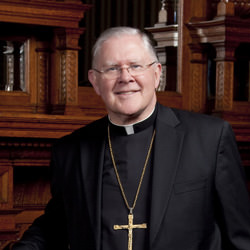 Archbishop Mark Coleridge
What are Catholic sacraments?